Ming Wang, M.D., Ph.D.
Founding president, Tennessee Chinese Chamber of Commerce (www.tccc.us)
International president, Shanghai Aier Eye Hospital (www.aier021.com)
Director, Wang Vision Cataract and LASIK Center
Clinical associate professor of ophthalmology, University of Tennessee
Immigration has continuously had a positive impact on our country, and has been vital to our economic growth. In fact, the United States of America has always been an immigrant country, from our founding fathers that came to this country on the Mayflower to European immigrants who came through Ellis Island to the more recent immigrants from Far East countries, South America and other continents.
By: CINDY SANDERS, Nashville Medical News, Jan 2010
In the fourth quarter of 2009, 30 Tennessee executives traveled to China on a 10-day trade mission to expand cultural and economic ties with the country that boasts the largest population in the world.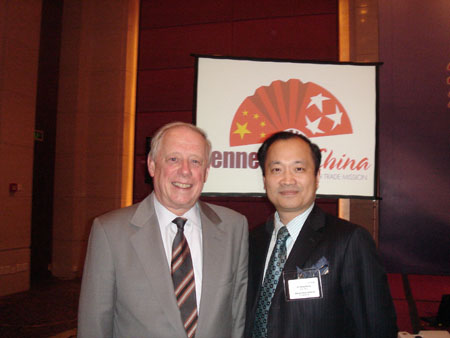 Dr. Ming Wang and Governor Phil Bredesen of Tennessee, at Beijing, on Tennessee China Mission 2009
The 2009 trip allowed state executives to visit healthcare, government and industry leaders in Beijing, Xi'an, Hangzhou and Hong Kong. This trip, which was recapped at a meeting hosted by the Tennessee Chinese Chamber of Commerce (TCCC), focused heavily on building healthcare partnerships and nurturing relationships that have already been formed.